Electric Vehicles (EVs): Why Your Next Car Will Be Electric
EVs are an exciting and significantly better technology than conventional fossil fuel burners. Not only do EVs provide cleaner transportation; they are three times more energy efficient, cheaper to own and operate and fun to drive. The driving experience is smoother, quieter, quicker, and more fun according to EV owners!  Sound interesting? Check out our EV Resources page for more information or watch our virtual EV Owners Panel to hear what EV drivers say about driving electric.
In the United States, the transportation sector accounts for 29% of all greenhouse gas emissions. The share is even larger in New Hampshire, where transportation is responsible for a whopping 47% of emissions! Electric vehicles (EVs) play a critical role in helping our society make the transition to clean transportation.  EVs are a clean alternative to conventional gas-guzzling cars— also referred to as ICE vehicles: Internal Combustion Engines. Yet they are much more than solely an eco-friendly form of transportation.
The Ins & Outs of Electric Vehicles:
Technology & Efficiency
Improved performance:

EVs deliver torque efficiently and directly to the wheels, while internal combustion engine (ICE) vehicles use pistons, transmissions, differentials etc. The even weight distribution of the batteries built into the undercarriage improves handling, traction and stability.

More efficient:

EV's are three times more efficient than ICE vehicles due to heat and energy transfer losses. EV efficiency ranges from 59-62% compared to 17-21% for ICE vehicles. This means significantly lower energy/fuel costs.

Reduced Maintenance & Repairs

: EVs contain far fewer parts avoiding many ICE  vehicle maintenance requirements. 
Driving experience
More fun to drive:

EVs offer an overall better driving experience than the average ICE vehicle. EVs don't have a transmission or noisy engine, making for a smoother and quieter ride. With instant torque, power transfers directly from the electric motor to the wheels, providing incredible acceleration. EV's are also renowned for their "one pedal driving"; the car slows down just by taking your foot off the pedal while recharging the battery.  At a stop light, relax with your feet off the pedals, the regen brake is working, then enjoy the smooth, silent acceleration.
Ease and cost of EV ownership compared to ICE vehicles
Increasing Affordability: New EVs may cost more now but with significantly fewer parts, declining battery costs, and more competitors offering EVs, they are becoming more affordable.  Add to those factors an emerging used EV market providing  more affordable choices – and in 2023, new tax rebates and other incentives that support the costs of purchasing incentives that support the costs of purchasing new and used EVs, and home chargers!
Lower cost of ownership:

EVs are significantly less costly to own over the long term. Maintenance is minimal: no exhausts, oil changes or tune-ups are required, cutting down on the time and money spent on upkeep. The regenerative brakes last much longer than conventional friction brakes. Such braking technology helps charge the battery, which further reduces charging costs. A

study

by Loop Ventures comparing an electric Tesla 3 to a gas powered Toyota Camry found the EV saved almost $6,000 in fuel and $2,800 in maintenance over 5 years. The far more luxurious and expensive Tesla cost $0.46/mile vs the Camry $0.49/mile over 5 years!

The fueling station is at home:

Most EVs are charged at home overnight. If your daily drive is longer than the range of the batteries (180-400 miles) you can charge at an ever expanding network of public chargers.
MSH Hosts Drive Electric Events
To inform and excite our community about EVs, the Hub hosts Drive Electric events to give folks a chance to talk to owners & dealers and test drive EVs. We've partnered with National Drive Electric Week, Drive Electric NH, and Drive Electric Earth Day to bring eleven Drive Electric events to our region.
The Hub hosted its first Drive Electric Event in partnership with Keene Ice in September 2018, at which over 200 attendees learned about EVs. In Fall of 2020, the Hub hosted a virtual EV Owner Panel. We pivoted to virtual events when Covid hit in 2020 and resumed in-person events in 2022.
Our next Drive Electric event will be held on Saturday, September 30, 2023 at the Community Center in Peterborough, as part of a larger Clean Energy Fair – with attractions for all! Check our Events calendar for details as the date approaches.
We welcome the opportunity to work with potential hosts for future Drive Electric events, including small "pop-up" events where a small number of owner-volunteers are on hand with their car or truck to provide Show & Tell. The small events can be an added draw for car shows, town fairs and old home days, farmers' markets, and popular outside venues. If you have a site or event and are interested in partnering with us, please contact us.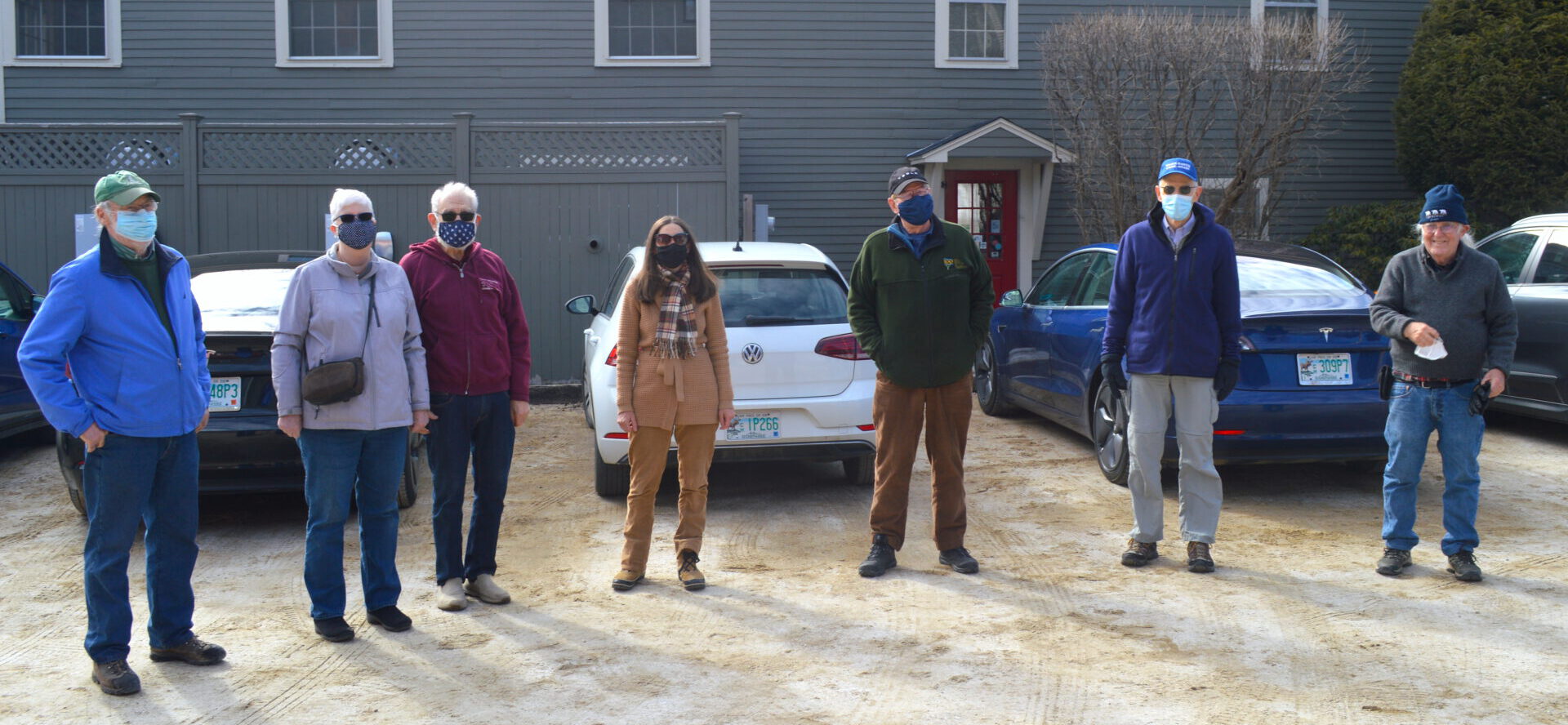 On April 22nd, 2023 we held our annual Earth Day Drive Electric Expo in Keene. There were about 300 visitors to examine 19 EVs, including for-sale cars, a truck and a commercial van from 3 area dealers! Visitors reported learning a lot about EV ownership, really appreciating the opportunities to interact one on one with our EV owner volunteers, and to see the wide variety of vehicles available. Attendees came from Cheshire County and beyond, including Vermont and Massachusetts.
The Monadnock Food Coop was our host, and we were sponsored by the National Drive Electric Earth Day supporters (Sierra Club and partners). 
Until our next expo on September 30th, consider looking at our information about financial breaks for purchasing a new or used EV.
For 2021, due to pandemic limitations, we recreated the Drive Electric experience in a virtual format with a virtual EV expo. In addition to an array of EV Owner profiles and stories, the virtual EV expo features our short film Drive Clean, Drive Electric! Why Your Neighbors Chose an Electric Vehicle.
Drive Electric EV Owner Panels
Drive Electric Fall 2021 | Real-world Reasons to Drive Electric: A Q&A with EV Owners
For 2021 National Drive Electric Week, the Hub partnered with Clean Energy NH and Granite State Clean Cities Coalition to host a conversation with EV Owners. Hear about the practical side of switching to an electric car–from cost of ownership, to charging, to shopping for an EV!
Drive Electric 2020 | EV Owner Panel: Why You Should Drive Electric
Due to the impacts of the coronavirus pandemic, the 2020 Monadnock Sustainability Hub Drive Electric event went virtual.  We partnered with Drive Electric NH to hold a virtual EV Owner Panel, during which seven enthusiastic electric vehicle owners talked about their favorite aspects about driving electric: from EV's superior technology, to cost savings, to the fun driving experience. 
You can watch a recording of the EV Owner Panel to discover why YOU should drive electric! Watch here >>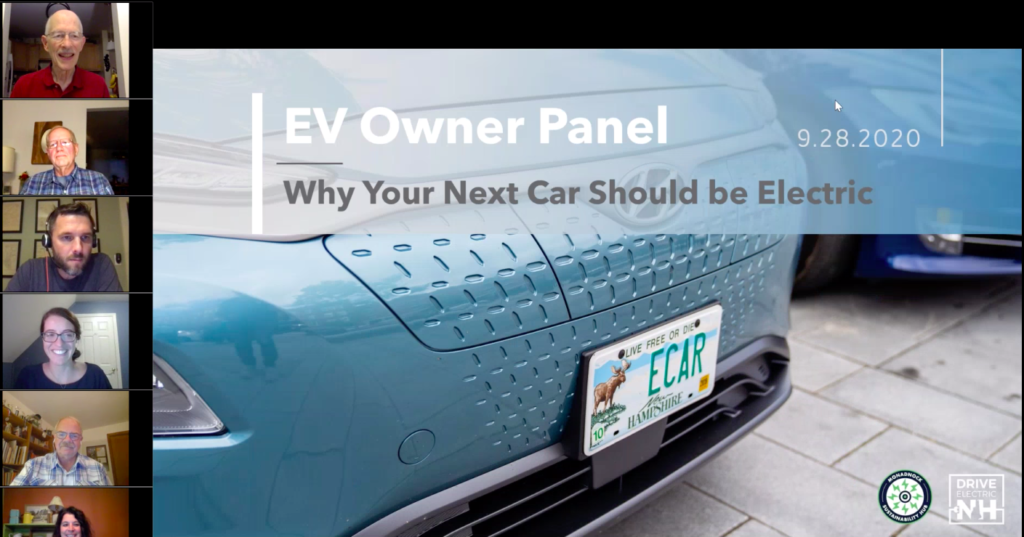 We've learned some event attendees have made an electric vehicle purchase as a direct result of one of our Drive Electric events. Hundreds of others have garnered key information and ideas about making the decision to purchase an EV as their next vehicle. If you or someone you know has purchased an EV because of attending an event, let us know.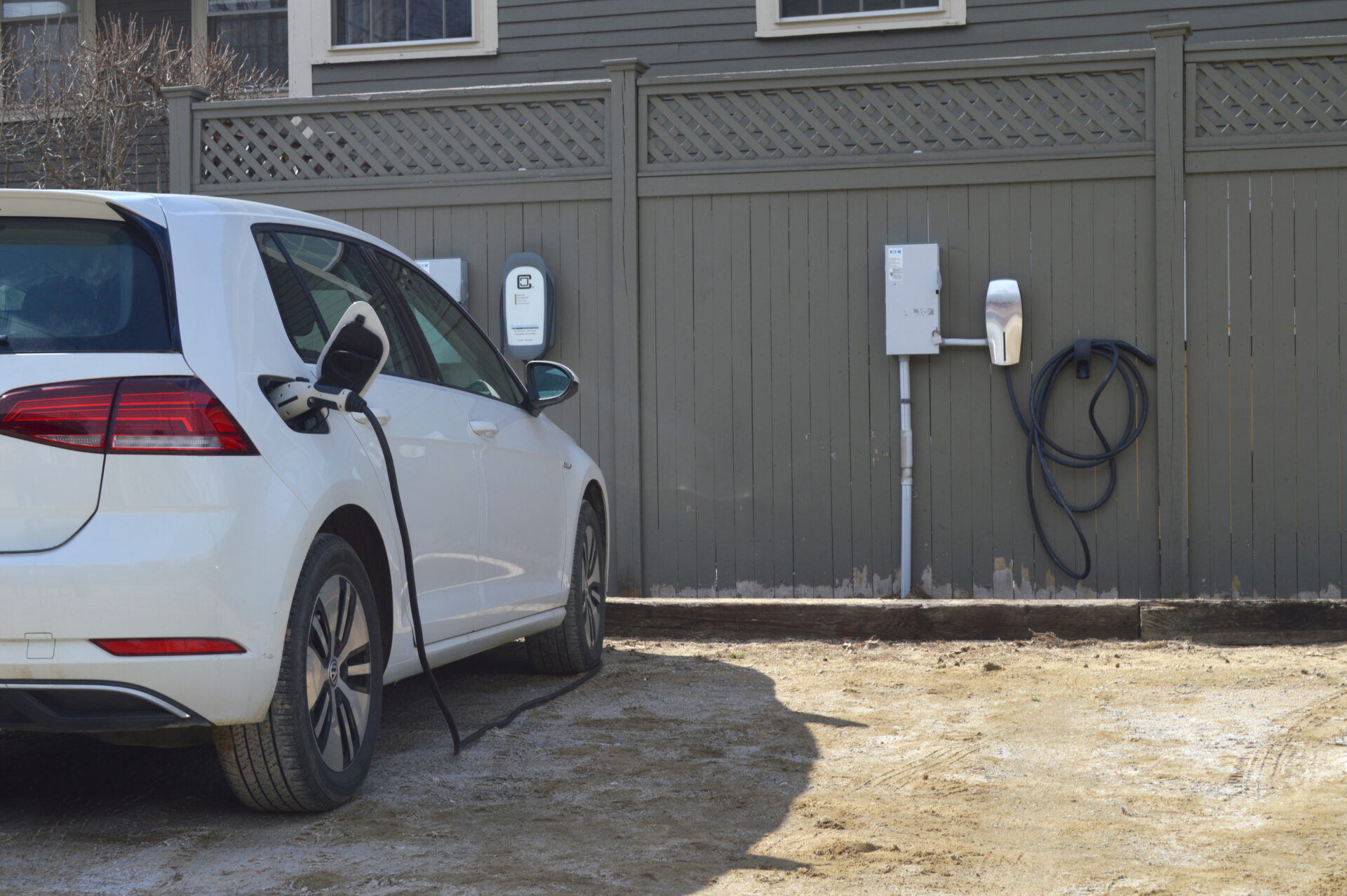 Monadnock Inns Offer a Recharging Station to Traveling EV Owners
Discover where to charge your EV when passing through southwest New Hampshire and hear from owners of the Chesterfield Inn & Hancock Inn what installing EV chargers has done for their small business.