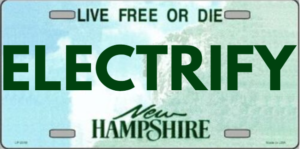 By Nora E. Hanke, Program Manager at Monadnock Sustainability Hub.
Originally published in The Monadnock Shopper News, Green Monadnock column, September, 2023
Car buyers in New Hampshire have unprecedented opportunities to go electric with their next vehicle acquisition or lease – and will save money when they do so. Federal legislation passed last year cuts the purchase prices of new and used electric vehicles (EVs) and plug-in hybrids (PHEVs), lowering the price barrier to ownership. 
EVs bought this year may be eligible for tax credits, and in 2024 the incentive turns into a discount. This is good news for everybody, because of the huge opportunity to cut carbon emissions by the transportation sector transitioning to electric, especially if from renewably-sourced power. Up-front discounts benefit those who would not owe much in federal taxes, and for municipal buyers and others that don't owe any. It will help when cash-in-hand is tight, and it's not feasible to wait for a rebate. 
Converting from a fossil-fueled car to an EV can ease strained household and town budgets because of lower fuel costs. A report by Consumer Reports indicates we can expect to save hundreds of dollars a year charging an EV compared to gas fill-ups for the same distance traveled. 
The cheapest battery refill is at a home charger powered by on-site solar panels, but ratepayers and those who charge at Keene's and Peterborough's public chargers also enjoy considerably lower fuel costs. New EV purchases can come with a Level 2 (L2) charger installation, which increases range by about 25-30 miles per hour plugged in. Otherwise, there is a tax credit to reimburse home L2 charger purchase and installation. Away from home, there are charging networks which typically bump up the refueling price, but only fast chargers (mainly on interstates, but coming soon to Keene and Peterborough) might charge a premium compared to refilling a gas tank.
EVs offer safety and performance advantages, and they cost much less to maintain. They have fewer moving parts, and do not need oil changes. Regular service consists of tire rotations, air filter replacement, and replenishing the wiper fluid. Brakes need replacement less often since they are subject to less wear and tear.
There is some nitty-gritty as to which EVs or PHEVs qualify for incentives. Used vehicles can garner an incentive up to $4,000, but only if bought from a dealership and at a price no greater than $25,000. The car must date from at least 2 model years prior, and not have recently generated someone else an incentive. There are no brand or model restrictions on the used EV incentive. However, buyer income is a qualifying factor. Single filers are eligible with an income up to $75,000, heads-of-household making up to $112,500 and married couples filing jointly reporting an income no more than $150,000.
New EV or PHEV purchase incentives are also subject to qualifying guidelines. There is a price cap of $55,000 for most passenger vehicle types. A higher limit of $80,000 applies to SUVs, pick-ups and vans. Other criteria include final assembly location and battery component origin. If an EV meets all requirements, its purchase may be eligible for the full $7,500 incentive. Income limits for a new EV are higher than for a used EV, starting at an annual income cap for single filers of $150,000.
Other federal incentives apply to purchasing a new electric commercial vehicle or leasing an EV. Incentives that apply to leasing are subject to fewer criteria – there are no make or model exclusions, and no income cap. 
Five different brands currently qualify for the new vehicle purchase incentives: Cadillac; Chevrolet; Ford; Rivian; Tesla and Volkswagen. The most affordable of these new EVs are Chevies, with versions that start below $30,000 even before the $7,500 incentive.
Car-buyers can have trouble evaluating their choices because salespeople may not be well-versed in the EVs they sell, and most dealerships carrying them have only 1 or 2 choices to show. People interested in talking with EV experts and seeing a variety of vehicles at once can attend the Monadnock Clean Energy Fair in Peterborough on September 30. There will be a range of EVs (and e-bikes) on display, and visitors can chat with their enthusiastic owners about costs, charging and other topics.