Free fuel delivered from the Sun daily.
Solarize Monadnock Campaigns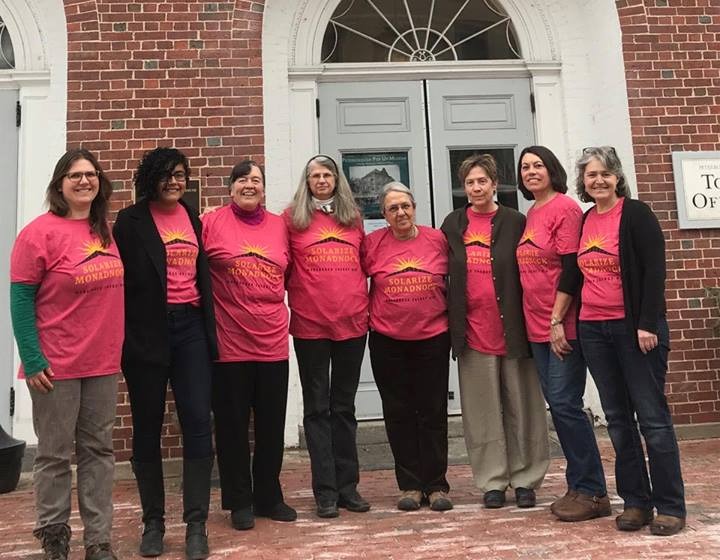 Solarize Monadnock
Since 2019, MSHub has supported local volunteer groups organizing Solarize Campaigns in the region under the Solarize Monadnock initiative. The goal of this initiative is to support groups by offering a mixture of administrative, communication, and marketing support. Learn more about Solarize Monadnock on the campaign website solarizemonadnock.com.
Throughout the campaigns, the volunteer groups have used the Vital Communities Solarize Toolkit as a guide to ensure transparency in all campaign steps. MSHub invites all those interested to view the Solarize Toolkit and learn for themselves how to put on a Solarize Campaign.
Solarize Monadnock 2019

Carbon Dioxide Offset from Campaigns
The inaugural Solarize Monadnock Campaign included five towns: Hancock, Peterborough, Sharon, Fitzwilliam, and Rindge. The campaign to sign up for an installation ran from the kickoffs in March, 2019 until July, 2019 with installations by the selected installer starting during the campaign.
As of Winter, 2020 data  compiled by ReVision Energy for the 2019 Campaign (Carbon Offset for 8-month period between May, 2019 to December, 2019)

| | |
| --- | --- |
| Completed kW | 287 |
| Completed Installations | 35 |
| Completed CO2 Offset (lbs) | 316,387 |
| | |
| Committed kW | 33 |
| Committed Installations | 3 |
| Committed CO2 Offset (lbs) | 35,244 |
| | |
| Total kW | 320 |
| Total Installations | 38 |
| Total CO2 Offset (lbs) | 351,631 |
NH Community Supported Solar (NHCSS)
NHCSS Project – Cheshire County Farmers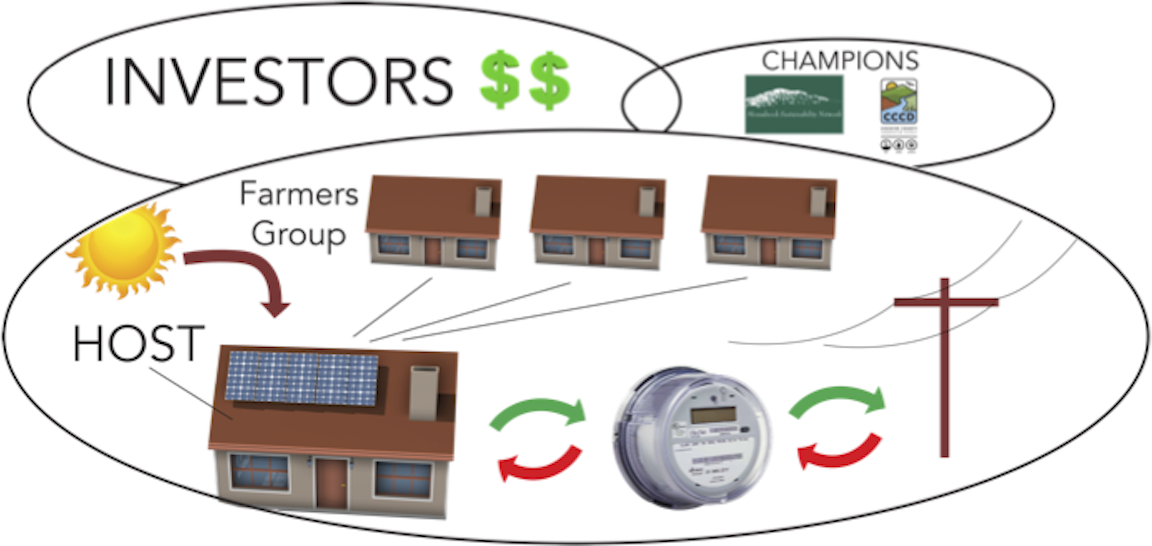 NH Community Supported Solar for Farmers
MSHub in collaboration with the Cheshire County Conservation District (CCCD) is working on bringing solar to local farmers. The goal is to help these farmers set predictable energy pricing and use clean energy reducing their carbon footprint. The plan is also for the farmers to purchase the solar array after a set period of time at a greatly depreciated price and be able to benefit from free energy from the Sun.
NH Community Supported Solar Farmer's Project
History of the Project
At the end of 2018, the Thomas W. Haas fund of the NH Charitable Foundation awarded CCCD a grant to reduce the cost to farmers to join the project.
From October 2018 to March 2019, we developed a PowerPoint presentation and brochure to spread the word about this initiative to local farmers including this project overview graphic (click on image to enlarge):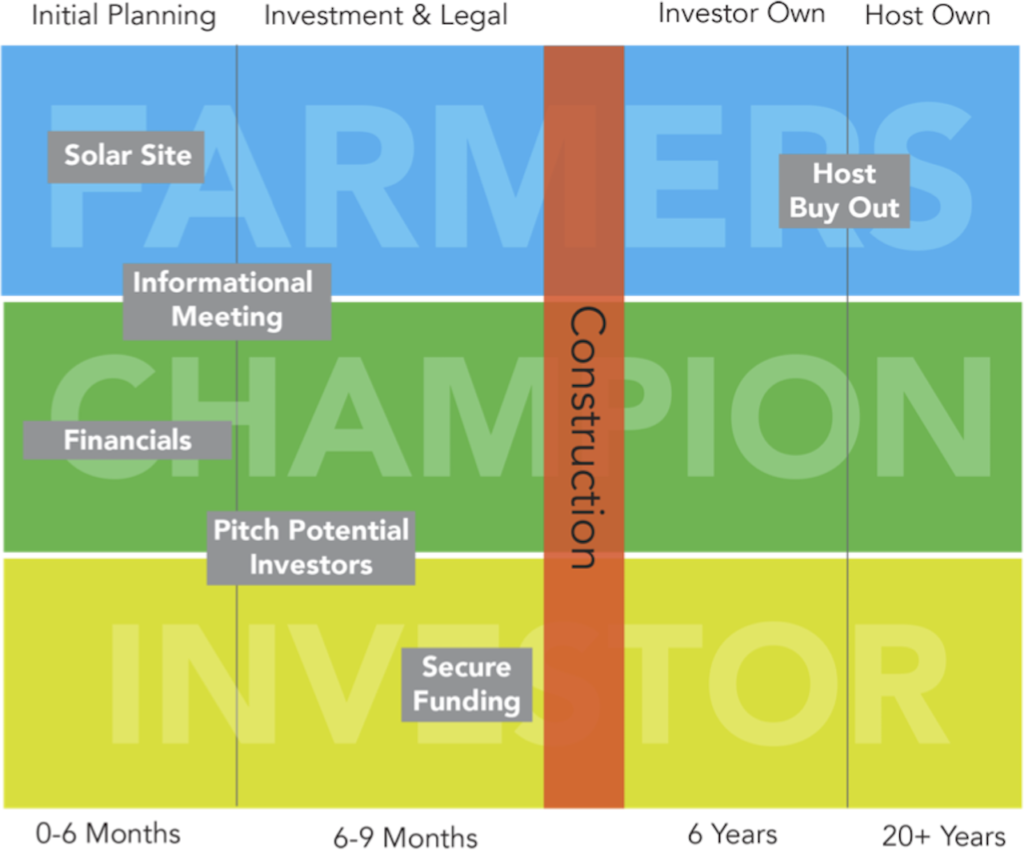 Three informational sessions were held in March and more than 50 farmers and other interested parties attended. Marketing materials were used during these sessions.
In April, MSHub focused on finding a host site; two promising locations were identified, while CCCD worked to expand the group of interested farms.
MSHub determined its solar installation partner for this project would be ReVision Energy
Owed for better allocation of resources.
Sun Moon Farm in Rindge was determined to be the preferred siting location for the CSS project. MSHub, CCCD, Sun Moon Farm, and ReVision Energy have met to review ReVision's proposal, including technical and siting details of the 95 kW PV system as well as financing options.
Next Steps for 2021
This CSS system was commissioned in December, 2020.
Farmers are committing to purchase shares (1 share = 5000kW hour) for system output total of 117.6 MW hours/year of PV energy
Interested farmers should contact: amanda@cheshireconservation.org
NHCSS Project – Monadnock Food Coop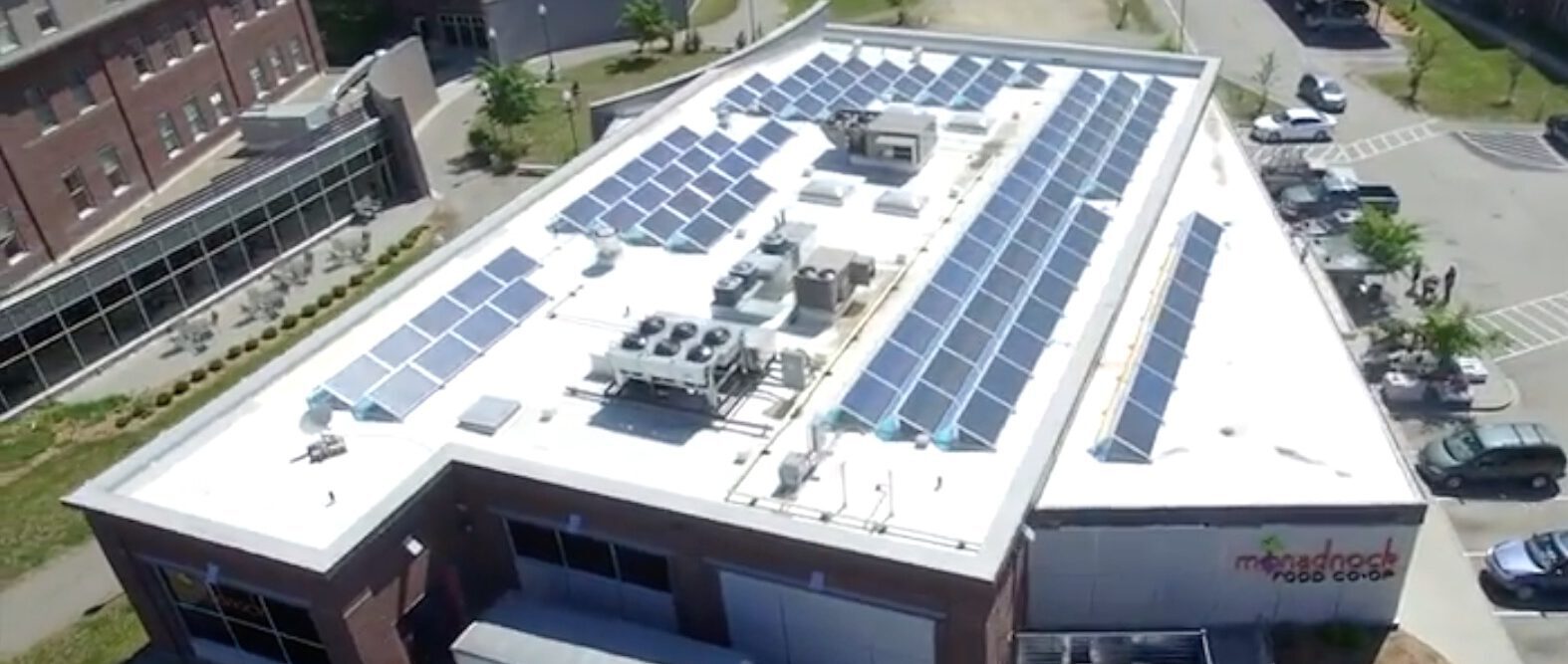 NH Community Supported Solar at the Monadnock Food Coop
The community-owned solar electric (PV) project on the roof of the Monadnock Food Coop in Keene has been producing power since 2016 and provided a basis for the Community Supported Solar (CSS) Guide.  This 43 kW CSS system not only provides over 40 MW hours per year of clean, sustainable power from solar energy but also jobs, tax, and investment dollars are kept within the local community.
NH Community Supported Solar Guide
Based on the experience gained through this experience, the NHCSS Guide was published to provide a resource on the range of Community Solar options and insights to pursue a locally-owned renewable energy system on non-profit entities, municipal properties, for low & moderate-income folks and for group net metering in your community.
Community solar (CS) is a photovoltaic (PV) also referred to as a solar electric system that provides power and other benefits to community members. CS is emerging across the United States, spearheaded by people seeking local alternatives to conventional energy sources; as a hedge against rising energy costs; to reduce carbon emissions, and provide energy resiliency.
 There are many approaches to Community Solar, most are turnkey PV  systems owned and managed by private developers and utilities as discussed on page 10 of the NH CSS Guide. Local citizen-led initiatives require the dedication of community members to initiate, organize and execute a project, but profits and control are retained within the community.
If your group wants to keep the benefits of the solar project local and are willing to put in the extra work to do this, this is intended to help you explore how to start your CSS project which has three main elements:
The host is the owner of the property on which the PV system is located, which may be a public (such as a municipality) or private entity. The host customer is named on the utility account as the party responsible for paying the electric bills and applies for the net metering services with the PUC and the utility company.
The champions make each CSS project happen. The project needs a volunteer team who want to see the host get a CSS system. They need an entrepreneurial spirit since they will be setting up a small business to own and operate the PV system with the intent to sell the system to the host. A champion doesn't have to be investor owner though an investor should become part of the project steering committee (SC).
The investors are local folks who meet the criteria of being accredited investors with passive income who want to put their money to work locally. They will form an LLC to own the project, sell electricity and eventually the PV system to the host.
Resources from Monadnock Sustainability Hub:
The Monadnock Sustainability Hub is not actively engaged in supporting the community solar process; but offers the complete NH CSS guide and crucially many turn-key legal and financial forms that have been developed to aid the hosts, champions, and investors through the community-supported solar process. Contact us for more information about how to obtain the guide for your project.