Public EV Charging in New Hampshire's Monadnock Region
Original post on April 22, 2021; updated May, 2023.
Any electric vehicle (EV) owner who lives in the Monadnock Region could tell you that public EV charging is limited in the area. This is a common theme throughout the rural areas of  New Hampshire, as most of the public EV charging in the state is concentrated around the more densely populated areas along major highways. Although towns and organizations are working hard to encourage the development of a public charging infrastructure—such as the Hub's Fast Charge Monadnock initiative—out of state EV drivers traveling through Keene, Peterborough, and surrounding Monadnock towns have limited options to charge as they make their way through our region. 
Keene now offers Level 2 electric vehicle charging in its Commercial St. parking lot. Level 2 chargers offer 10-20 miles per hour of charging, and are the type that EV-owners install at home. Several car dealers in Keene and Swanzey and at least one hotel in the city also offer chargers. In 2022 Peterborough installed municipal chargers in its Riverwalk parking area, a short and scenic stroll to downtown businesses and entertainment venues. The town allows overnight charging, and some nearby residents utilize this!
While the region eagerly awaits the development of a more extensive network of public EV chargers, there are a couple lesser-known locations supporting Monadnock's EV charging needs: the Hancock Inn and the Chesterfield Inn. These Inns are known for their historic charm and proximity to beautiful New Hampshire scenery, but it is lesser known that they offer EV charging to their patrons.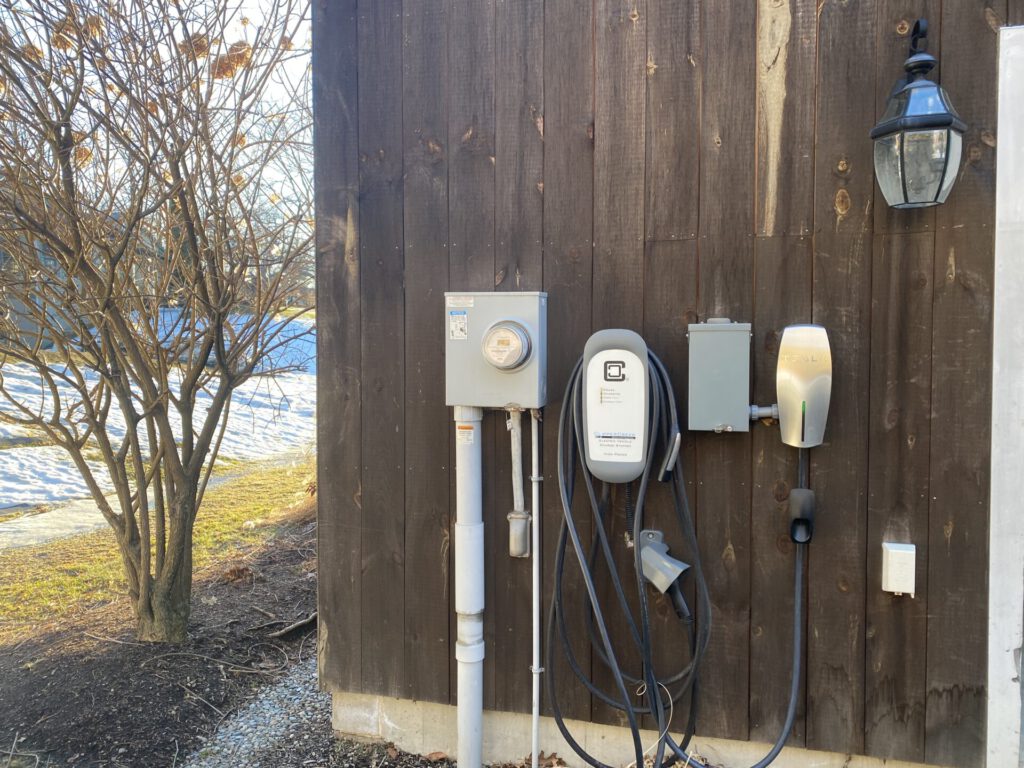 Both the Hancock Inn and the Chesterfield Inn have two "level two" chargers available to their patrons: a ClipperCreek charger—which is compatible with all plug-in electric vehicles—and a Tesla charger—which is only compatible with Teslas. Judy Hueber, who has been the innkeeper of the Chesterfield Inn with her husband since 1987, installed the chargers years ago. She received both chargers from Tesla, who covered the expense of the chargers and installation. Marcia Coffin, previous owner of the Hancock Inn with her husband, also received her chargers, free of charge, from Tesla.
A Place to Stop and Recharge
"The Hancock Inn has a history of being a wayward station for travelers. From horsemen, to carriages, to automobiles—they are a stop for travelers to recharge."

     – Marcia Coffin, Hancock Inn
Envision a future where EV charging hubs are as plentiful as gas stations are today. Imagine level 3 chargers—also known as "DC fast chargers", these EV chargers are powerful enough to provide an 80% charge in 20 to 30 minutes—at every restaurant parking lot and rest stop. That is an EV owner's dream! Although DC fast chargers remain the ideal, certain obstacles, including cost and installation requirements, make installing a level 3 charger not feasible for many businesses and towns. Level 2 chargers, on the other hand, are less expensive and much easier to install. However, they take between four to six hours to provide a full charge, making them poor candidates for quick "pit-stop" charging. 
That's why businesses in the hospitality industry, like the Hancock and Chesterfield Inns, are ideal locations for level 2 chargers. They offer traveling EV owners a place to rest their head for the evening and an overnight stay is plenty of time for a level 2 charger to work its magic. "We get a lot of traveling EV owners who stay overnight," says Chesterfield Inn owner, Judy. She remarks that EV travelers far and wide select the Chesterfield Inn because of its charging; "We had a customer all the way from L.A….visit because of our chargers." In an area where EV charging is sparse, the Inn provides travelers with a place to stop as they travel through New England. 
Same goes for the Hancock Inn; the historic Inn has been accommodating travelers since 1789. Whether an EV owner needs a place to stay overnight or wants a meal during a long drive, the Inn offers EV owners a chance to charge their car while they themselves refuel. "The Inn has a history of being a wayward station for travelers," previous Innkeeper Marcia notes. "From horsemen, to carriages, to now automobiles—we are a stop for travelers [and their EVs] to recharge".
An Opportunity for New Hampshire Businesses
"I would encourage anyone who has the opportunity to put a charger in to do it…because it's the future! You won't be sorry."

     – Judy Hueber, Chesterfield Inn
The development of our state's public EV charging infrastructure serves to benefit more than EV owners. Large and small businesses alike can benefit from installing an EV charger because they can attract a new customer base. This is especially true for the New Hampshire hospitality industry. Installing an EV charger can be a way for local hotels and inns to generate more business. In an area like New Hampshire where public EV charging is limited, traveling EV owners seek out any opportunity to get a charge; finding lodging with charging is a huge perk, if not a necessity, for EV owners on long road trips. "The chargers are totally worth it because they bring me business. As a small business owner, you have to pull business from whatever area you can," Judy says. 
As EV adoption increases, so will the demand for charging, especially in areas like New Hampshire that get a lot of out-of-state visitors. "It's only going to become a bigger and bigger thing. Since installing our chargers, we have seen an increase of EV owners visiting," says Judy. "I would encourage anyone who has the opportunity to [install EV charging] to do it…because it's the future! You won't be sorry."
EV charging also provides businesses with an opportunity to play a role in the adoption of clean transportation. The more charging that is installed and available to the public, the more feasible and encouraged the adoption of electric vehicles among our community members. Transitioning our transportation to clean energy is integral to addressing the climate crisis—assisting in this transition through providing public charging is one way businesses can support climate solutions. In doing so, customers are likely to notice. "Chargers are a physical representation that we are making an effort," says Martha. "Whether they use the chargers or not, consumers care and want to support businesses who are doing the right thing."
Learn more about electric vehicles at our virtual EV Expo or learn more about the Hancock Inn or Chesterfield Inn.