Police departments across the country are adding electric vehicles (EVs) to their fleets. Why? Because EVs save on operational costs, are better for the environment, and offer advanced safety and performance features.
Making the Case for EV Police Cars
Learn about the benefits of EV Police Cars in our report Making the Case for EV Police Cars: Budget Savings with Superior Performance.  The report below details cost savings and other benefits of EV police cars, charging and retrofitting information, and success stories from police departments across the U.S. who have added EVs to their fleets—including our neighbors in Windham County, VT. Click below for the full report (updated in April 2023)!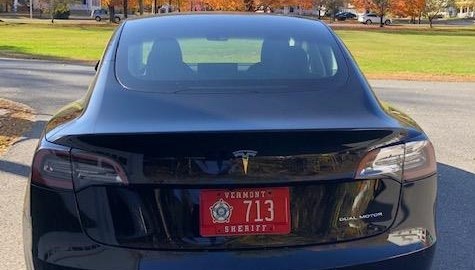 MSH is on a mission to bring EV Police Cars to Monadnock communities!
We offer encouragement and support to police departments, municipalities, and residents who are interested in bringing an EV police car(s) to their community.
Interested police/town staff or residents can contact the Hub at nhanke@monadnocksustainabilityhub.org to discuss next steps. Interested police chiefs/officers also have the option to contact Windham County, VT Sheriff Mark Anderson for questions on his department's experience of purchasing and owning an EV police car (please reach out to the Hub for his contact information).
Report Highlights
EVs have lower cost of ownership than traditional gas-fueled cars—allowing police departments to save on fueling and maintenance costs.

For example, the Bargersville, IN Police Department found their Tesla had a cost of ownership of $0.37 per mile compared to $0.65 per mile for their traditional police vehicle, the Dodge Chargers. This allowed them to save $6000 on operational costs within the first year of owning their EV police car!

EVs have superior performance and safety features

, offering superior handling, quick acceleration, silence, less downtime, cleaner air and, for some, a 5-Star safety rating.


 

EVs provide a healthier and more comfortable environment inside and outside the vehicle with no engine noise or exhaust. By replacing one of their traditional police cars with an EV, the Freemont, CA Police Department avoided 42,198 lbs. of annual carbon emissions.
Spread the word about EV police cars! Share this summary of the 2023 report with your police department or town staff.
When using our public educational materials and reports, we ask you to please keep the Hub logo on the handout and credit the Hub, thanks!