Discover sustainability events happening across the Monadnock region.

Green Your Fleet Clean Vehicle Demonstration at NH Motor Speedway
June 9 @ 8:00 am

-

5:00 pm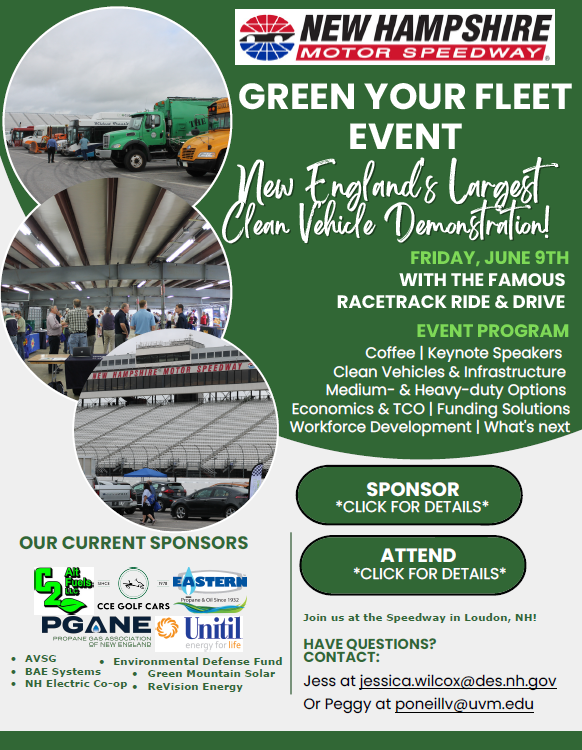 GYF is the biggest Alternative Fuel (AF) and Electric Vehicle (EV) event hosted at the NH Motor Speedway! GYF spotlights diverse vehicle, equipment, fuel, technology, and infrastructure alternatives: biodiesel, electric, hydrogen, natural gas, and propane for commercial and municipal LD/MD/HD on-road and off-road, vehicles and equipment, as well as other fuel efficiency strategies in transportation. Please note the host does not indicate an end time. For more information, visit Granite State Clean Cities.
Co-hosted by Granite State Clean Cities (GSCCC) & Vermont Clean Cities (VTCCC), with planning support from Clean Energy NH, Drive Electric NH, Maine Clean Communities, NH Auto Dealers Assn, NH Department of Environmental Services, and the GSCCC Advisory Board
Event fee $15 for end-users, $50 for vendors/trade/industry
Geared for:
Fleet Managers and end-users: Public & Private Vehicle and Equipment Fleet Managers and Staff, Drivers/Operators, Mechanics/Technicians
Note: can be a fleet of 1 unit!
Government: State Agencies, State Representatives
Municipalities: Public Works, Police, Town Manager/Planner, Economic Development, Selectboard, Planning Board, Code & Permitting Officials
Planning Commissions: Planners, Technical Advisory Committee members
Industry:

Alt Fuel Providers
Consultants
EV Infrastructure Providers
Solar Providers
Telematics Providers
Transportation Providers

School Districts/Universities
Clean energy and transportation advocates and enthusiasts across New England

Energy & Environment Commissions
Sustainability Committees
Climate Action Groups
Non-profits