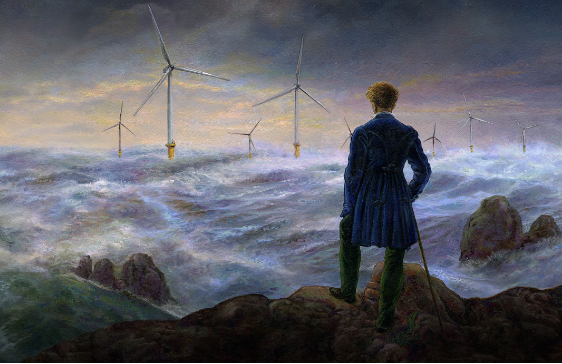 Offshore wind is said to be New England's greatest untapped energy resource. Today, Europe has well over 5000 offshore turbines producing carbon-free energy. The US has five. There is a strong push to access this clean energy, but – it's complicated! There is pushback from many quarters. 
In this webinar, a panel of experts will address the fog of misinformation, to help us understand the benefits and challenges of offshore wind in New England. Topics that will be explored: marine biodiversity impacts; transmission challenges; labor standards; business & supply chains; policy & politics; opportunities. Click here to register.
Moderated by
Rob Werner
— 
League of Conservation Voters –
and
 NE4OSW
Image credit: Caspar David Friedrich's 1818 "Wanderer above a sea of fog" with addition by Sharif Tarabay.