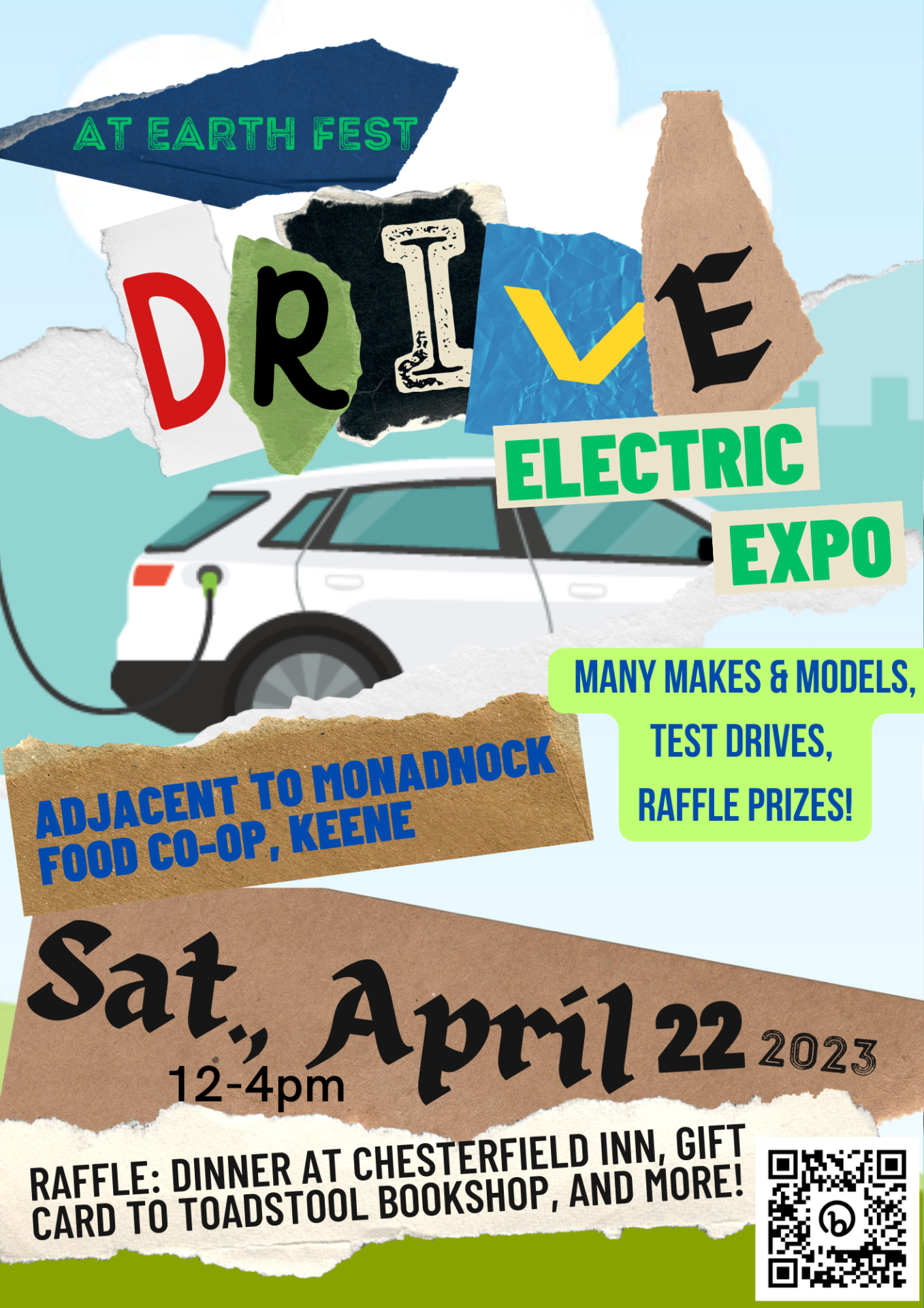 Are you curious about what Electric Vehicles (EVs) look and drive like, what their owners think, how they manage charging? Do you want to check out a large variety of EVs now available on the new or used marketplaces – many available for test rides or drives? Did you know that there are now big tax credits for purchasing a new or used EV, and for installing a home charger? Come on down to the Drive Electric Expo in Keene on Saturday, April 22nd from Noon till 4pm, when and where the Monadnock Food Co-op is hosting its annual Earth Day festivities, with many food vendors, local "green" businesses, and live music! At our Drive E, there will be a free drawing where prizes include a free dinner for 2 at the Chesterfield Inn (fancy!), Royal Spice Indian Restaurant (another local jewel) and a gift certificate to the Toadstool Bookshop! Local EV dealers will be on-site showcasing their vehicles, along with private owners with theirs (privately-owned vehicles are not for sale). There will be a series of 5 minute mini-talks on the hour and half-hour:
12:30 Home charging   

1pm Public charging 

1:30 Chargers coming to the Co-op!

2pm

Taking long trips with an EV

2:30 Electric police car opportunities 

3pm Financial incentives to reduce the cost of a new or used EV
Vehicles we expect to display include:
Chevrolet Bolt  2017 – subcompact hatchback
Chevrolet EUV 2022 – small SUV – used, for sale
Ford F-150 Lightning – truck
Ford E-Transit commercial van 2023 – new, for sale
Hyundai Ioniq 5 SEL 2023 – compact, crossover SUV
Jeep Wrangler Sahara 2023 – Plug-in Hybrid Electric  – SUV
Mitsubishi Outlander PHEV – Plug-in Hybrid Electric – SUV
Nissan Leaf – compact hatchback
Kia Nero 2023 –  SUV – new, for sale
Kia EV6 2023 – SUV – new, for sale
Kia EV6 2023 – SUV (2nd, privately-owned)
Rivian R1T 2023 – truck
Tesla Model S 2017 – sedan
Tesla Model 3 2019 – sedan
Tesla Model X 2016 – sedan
Tesla Model Y Long range 2023 – sedan
Volkswagen ID.4 2023 –  sedan – new, for sale
Volvo C40 2022 – SUV/sedan
There may be additional vehicles available to examine and ride in or drive.
.