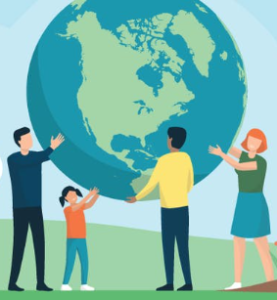 By Catherine Owen Koning, Professor of Environmental Science at Franklin Pierce University
Originally Published in The Monadnock Shopper News, Green Monadnock column, March, 2023
What a strange winter!  Temperatures up and down like a roller-coaster. As I write this on Feb. 20, it is 55° F outside. According to NASA, 2022 was the 5th hottest year on record, tied with 2015. And this is part of a trend. The past nine years have been the warmest years since modern record keeping began in 1880. Climate change is here, and it is scary.   
Lots of people are working hard to avoid the worst impacts of runaway climate change. Groups such as the Monadnock Sustainability Hub and Clean Energy Keene have held workshops about how to increase energy efficiency and comfort at home, and towns are helping to make carbon-free electricity sources such as solar, wind and hydroelectric available to everyone. There are also lots of smaller, cheaper things we can do to reduce the amount of climate-warming gases we create.  A key tactic is to produce less trash.
Many people hear "waste reduction" and they think, "recycling", but it is more than that. Recycling some materials, like aluminum, does save money, reducing air pollution by 95%, compared to making a can out of raw materials from the earth.  Recycling glass, plastic and other materials is not as easy or as beneficial as aluminum, but it is helpful. However, recycling is not a cure-all.
Certainly, recycling is better than sending the trash to a landfill or an incinerator. One ton of garbage sent to a landfill produces 0.3 to 3.7 tons of carbon pollution.  If incinerated, that same ton of garbage combines with oxygen in the burning process to produce 0.7 to 1.2 tons of carbon dioxide, as well as toxic ash and other pollutants, even when the garbage burned is used to produce electricity.
One ton of recycled materials does produce 38% less planet-warming pollution. But note, that is not 100% less! Cans, bottles, paper and cardboard all have to be transported and then melted or re-wetted and re-mixed.  All of that takes energy, and all of that energy produces climate-altering pollution.  
So, yes, we should recycle, but even better, we should reduce how much we buy in the first place.  
Creating the "stuff" we use produced 11 billion tons of planet-warming pollution in 2015.  Most of this is for cement, metals, plastic and rubber. These numbers do not take into account the fact that getting the raw materials for manufacturing often requires cutting down trees and digging mines. These activities remove the soil and plants that take carbon pollution out of the air, helping us fight climate change, which further increases the negative climate effects of the things we buy.    
Fortunately, there are so many ways to reduce our trash. Instead of using paper napkins or paper plates, keep a stack of old dishes and reusable flatware, and lots of cloth napkins on hand. Instead of giant plastic bottles of laundry detergent, try detergent sheets – miraculously light and effective "dehydrated" laundry detergent!  A package that weighs less than a paperback book cleans 60 loads. Shampoo bars instead of shampoo bottles further reduces waste. One of my favorite ways to reduce what I buy is to go "shopping in my closet" – discovering that I already have that dressy black belt or winter snow pants, no need to spend money at all. 
Food waste produces 8% of planet-warming greenhouse gases. We can reduce this by careful shopping at the grocery store so food doesn't go bad and get thrown out, and by composting food scraps. Composting, in your backyard, at your town transfer station, or through a local composting service such as Elm City Compost, converts your food waste into valuable nutrition for home gardens.  
Other ways to reduce carbon pollution are featured in events put on by the Monadnock Sustainability Hub.  A Webinar on Energy Efficiency and Cost-Savings for Landlords was held recently, to assist in making rental housing more weather-tight.   On Saturday, April 22, from 12-4 p.m., there will be a Drive Electric Vehicle Expo, where participants can talk to the owners of electric vehicles and take a test drive. This event is part of the Monadnock Food Co-op's Earth Day EarthFest.
As well as being a Professor of Environmental Science at Franklin Pierce University, where she is part of the Institute for Climate Action, Catherine Owen Koning is a member of the Monadnock Sustainability Hub's Board of Directors.