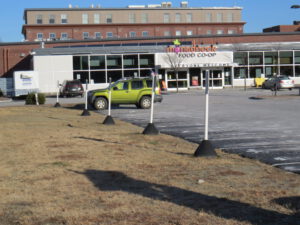 March 1, 2023 The Monadnock Sustainability Hub is proud of its partnership with the Monadnock Food Co-op for the planned installation of four Electric Vehicle (EV) chargers adjacent to the Co-op's parking lot: two DC fast chargers – the region's first! –  and a dual port Level 2 charger. Fast chargers add 180-240 miles range per hour and each of the Level 2 charge plugs will provide 10-25 miles of range per hour of plug-in.
In February 2023 the NH Executive Council gave approval for the Co-op to enter a grant agreement for installation of the chargers. This decision comes after years of Hub collaboration with the Co-op and installation-partner ReVision Energy in applying for a portion of the New Hampshire VW Diesel settlement  funds, and designing the system. 
With the Council's final approval to disburse these funds, solar company ReVision Energy will be able to start work on the project this spring. Completion depends largely on the supply chain and how quickly the utility (Eversource) completes its preparations for the station to connect to the electric grid. The earliest likely go-live date is late 2023; otherwise we can expect the region's first EV fast chargers to be in operation by early 2024. Though the bulk of project expenses are covered by the grant award, MSH raised about $30,000 to contribute to the matching funds requirement.
The rapidly increasing adoption of EVs necessitates charging stations located at regular intervals along our roadways. Adequate public charging infrastructure gives buyers the confidence to make an EV purchase. With this understanding, back in 2018 the Monadnock Sustainability Hub jumped on an opportunity to fund local public EV chargers from newly-available Volkswagen Trust Funds. We identified Keene's Monadnock Food Co-op, an existing clean energy project partner, as offering an ideal charging site, between Routes 101 and 9 through Keene. The grant bid was successful, but steps in obtaining the funding have taken longer than expected. 
New Hampshire currently lags far behind surrounding states and Canada in EV charging infrastructure for business travelers, tourists and local EV drivers. Public chargers are particularly important to local EV owners without Level 2 (240 volt) home charging, such as renters or residents that haven't felt able to make the necessary electrical upgrades at home. "A fantastic forward looking asset for downtown Keene and a big boon for myself as we're EV owners living just down the street!", commented Keene resident David Broughton, when he heard the news.
In 2021, there were approximately 4,000 EVs registered in the state, and by 2030 this number is projected to skyrocket to 30,000 – 145,000 battery EVs and 62,000 plug-in hybrid EVs. To meet expected needs, the US Department of Energy advises that NH requires 5,850 workplace charging plugs, 4,000 public Level 2 plugs, and 485 public DCFC (fast charger) plugs. 
Since the transportation sector accounts for 40% of greenhouse gas emissions in New Hampshire, climate goals call for phasing-out internal combustion engine vehicles. The installation of the region's first public fast chargers and additional Level 2 chargers will represent a significant boon to the electrification of transportation in the Monadnock Region. 
With this public charger project initiated by the Hub, we have again demonstrated that we are the region's catalyst for climate solutions, and what committed partners can accomplish with shared goals.