By MSH Board Member, John Kondos.
Originally Published in The Monadnock Shopper News, Green Monadnock column, September 2022.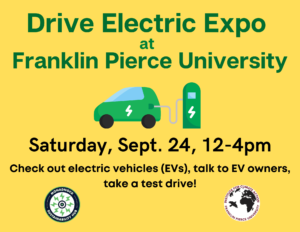 Electric vehicles (EVs) are gaining momentum as battery prices decline and production scales up, driving prices lower and providing more choices. Having driven an EV for almost 4 years, it's easy to understand the accelerating popularity of EVs.
See for yourself at the Drive E event at Franklin Pierce University in Rindge on September 24 from 12-4 PM. There will be a variety of EVs and EV owners to talk with and possibly test drive.
While detractors have spread myths about their safety and costs, EVs are selling as fast as they can be produced. Some have long reservation lists, like the first two electric pickups- the Rivian R1T, Motor Trend's truck of the year, and the Ford F-150 Lightning.
One myth is EVs are only for rich folks. While most early EVs were luxury models there are several EV models below the average new vehicle price of $40,000. The Chevy Bolt EV, Bolt EUV, Nissan Leaf start below $30,000 and the Hyundai Kona is just over that. If you go a little over $40,000 there's the VW ID.4, Kia Niro, Kia EV6 and Car & Driver's EV of the year the Hyundai Ioniq 5. All of these have driving ranges from 212-275 miles on a full charge. Many EVs at higher price points have ranges exceeding 300 miles. Used EVs are beginning to emerge as leases expire. The Inflation Reduction Act updated EV incentives to focus on made in America and breaking the luxury myth by limiting incentives to cars costing up to $55,000 and SUVs & trucks under $80,000 as well as used EVs under $25,000.
Regarding safety, comparative analysis indicates that EVs are just as safe or safer than internal combustion engine (ICE) vehicles and are less prone to fires and rollover crashes. EVs generally perform better than ICE vehicles in crash tests and score overall higher ratings from the Insurance Institute of Highway Safety (IIHS). The road hugging handling benefit comes from the battery's placement within the undercarriage frame providing a lower center of gravity than conventional vehicles, making them more stable and less likely to roll over.
EVs are about 60 times less likely to catch fire than internal combustion engine vehicles. ICE vehicle fires are common in the U.S. estimated to happen 500–600 times every day. Most EV battery fires are due to defective battery assemblies which good manufacturing quality control should prevent. In the rare situations when EV batteries ignite, they can be more difficult to extinguish, although they do not explode like gasoline fires. EV fire safety protocols and training resources are available from the National Fire Protection Association to guide first responders. EVs are designed with safety features that shut down the electrical system when they detect a collision or short circuit.
The driving range is a common concern, so it is important to think about your driving requirements. For example, how far do you regularly drive and how much will this car be used for road trips? Since most EV charging is done at home, if you drive less than 200 miles a day you can recharge overnight and save a lot of money on fueling. For long road trips, this year's Infrastructure bill will accelerate the buildout of a national EV charging network. Most states in New England, except NH, have quite a few chargers already.
The EV owners I've met and that includes used EVs are very happy. EVs are praised as smooth, quiet, quick, with great handling and a much lower cost of ownership. That lower cost comes in two ways- electricity prices are much lower than gasoline and EVs need less maintenance than ICE vehicles. The battery, motor, and associated electronics require little to no regular maintenance. There are far fewer moving parts and no oil changes. Brake wear is significantly reduced due to regenerative braking. Consumer Reports estimates that maintenance costs are 50% less for EVs than ICE cars. My personal experience is much better than that.
Don't miss the Drive E event at Franklin Pierce University in Rindge on September 24 from12-4 PM. May the torque be with you.
John Kondos is a founding member of Home-Efficiency Resources, the Monadnock Sustainability Hub and the Monadnock chapter of Citizens Climate Lobby.