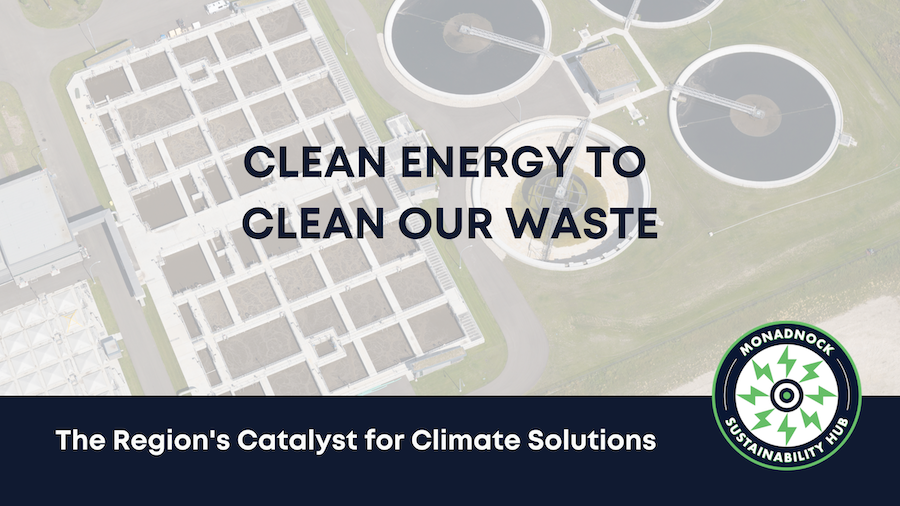 By Ann Shedd, MSH Board Member.
Originally Published in The Monadnock Shopper News, Green Monadnock column, July 2022.
Have you been out boating, fishing, swimming, or just admiring our New England streams and rivers this summer? Take a moment to be grateful for our Wastewater Treatment Plants (148 of them in NH)! Since 1972's bipartisan adoption of the Clean Water Act, the number and quality of our nation's sewage treatment facilities have greatly expanded. "Billions of pounds of pollution have been kept out of our rivers and the number of waters that meet clean water goals nationwide has doubled – with direct benefits for drinking water, public health, recreation, and wildlife," according to the non-profit American Rivers.
As you may imagine, it takes a lot of energy for the pumping, filtering, mixing, aerating, and all the other 24/7 processes that go into cleaning up a city or town's worth of sewage before discharging it into our waterways. In many regions, wastewater treatment is one of the heaviest electricity users. Our local facilities are no exception.
Increasingly, municipalities around the country are installing solar arrays to lower electricity costs for their Wastewater Treatment Plants (WWTPs). In our region, Peterborough led the way in 2015, with a 942-kilowatt solar array installed on the otherwise unusable site of several former wastewater lagoons. The electricity produced on the one-acre site now powers the town's water treatment. Any excess electricity generated is credited to Peterborouogh's municipal utility accounts.
This summer, Keene and Winchester completed solar installations at their WWTPs. Keene's 1.3-megawatt solar field is on a 3-acre site beside its plant; its "behind the meter" electricity powers the plant and any excess goes to the grid but is credited to Keene's accounts. Winchester's 297-kilowatt array is projected to save $18,500 for the town over its first five years. Jaffrey citizens voted this year to begin the process of developing a 1-megawatt municipal solar field, along with planning for another array on one of the town's waste lagoons to power their WWTP.
For comparison, just these three completed local installations are generating an amount of electricity per year that could power over 600 average NH households.
Elsewhere in NH, in 2018 Claremont developed a 151-kilowatt solar array on land adjacent to its WWTP. The system is forecast to save taxpayers more than $800,000 over its lifetime. Since 2021 Hanover has had two ground-mounted solar farms located adjacent to the town's Water Filtration Facility, with a 1.72-megawatt capacity. In Nashua, Pennichuck Water Works has a 1.6-megawatt solar array that will reduce Pennichuck's electrical expenses by about $55,000 per year for the next 20 years.
All this solar power generates savings for the towns and their taxpayers, but who pays for the solar systems to begin with? Most involved: no upfront costs! They were developed with Power Purchase Agreements (PPAs). In a PPA, investors – often local or regional – own the systems, paying upfront costs and seeing to maintenance of the system for the duration of the Agreement. The towns pay the investor groups for electricity generated by the solar systems at a discounted and predictable rate compared to the rate charged by the utility companies. This year especially, we are all seeing those utility rates go up for a number of reasons; cost savings by generating electricity on-site will be even greater.
A potential additional benefit to these WWTP solar systems would be battery storage. For example, the municipal electric utility in nearby Sterling, MA has had a 2.4 MW solar system since 2013 and added a battery storage system in 2016. Sterling can lower its demand for electricity from the grid by drawing on its batteries at times of regional "peak demand" when electricity costs are highest. With its associated solar array, the batteries can also provide up to 12 days of emergency backup for Sterling's critical safety services in the event of a grid failure. Even without counting project grants received by Sterling, payback for the system is estimated as seven years.
All this adds up to a win-win-win for all of us: clean water, cleaner and more efficient locally-generated electricity, support for the local economy, and lower costs for municipal services.
Ann Shedd is a retired physician, a former member of the City of Keene's Conservation Commission and Energy and Climate Committee, and a current member of the Board of the Monadnock Sustainability Hub.