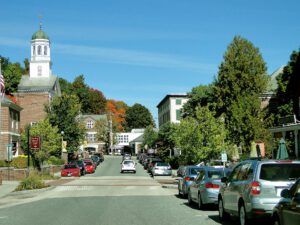 By Bob Kennedy, resident of Peterborough and a member of the Peterborough Energy Committee.
Posted in May 2020.
The EVs are coming! The EVs are coming! No, this is not an alarm call. This is a reality check. According to a J.P. Morgan investment analysis, less than five years from now there will be close to 8.4 million all-electric vehicles (EVs) on the road, equal to 7.7% of all vehicles. That's a jump of nearly 600% compared to today. That's good news since, according to the EPA, transportation accounts for nearly 30% of carbon and other toxic emissions. New England states have adopted carbon-reduction programs that rely heavily on electrification, including EVs. For example,a Massachusetts state-sponsored incentive intends to put over 300,000 EVs on their and our roads by 2025. What does this mean for the ConVal Region, especially Peterborough? The EVs are coming! Maybe…
Many EVs have a limited mileage range. Though quite adequate for local trips, special care is needed for longer trips. Recharging requires planning because there are a minuscule number of EV charging stations around; none here in Peterborough. Except for one at the Hancock Inn—which the Coffins are very generous to often share with the public—there aren't any EV chargers for 15 miles or more around. That means non-local EV owners, though otherwise attracted to Our Town for its restaurants and shops, often won't come here for fear of being trapped, out of charge. Round trip from the Boston area nears or exceeds the maximum distance for several EV models, for instance. Having a charging station puts your town on the map as an EV destination.
Aware of the obvious economic advantages for downtown businesses to attract EV visitors, and based on their understanding of "range anxiety" by EV owners, the Peterborough Energy Committee (PEC) has formulated a plan to conveniently locate charging stations in the newly constructed municipal Riverwalk Parking Lot adjacent to the center of town. "Destination charging" are the keywords. Unlike the expensive, but quick "fast-charging" option preferred by the 20 minutes, in-and-out long-distance EV traveler, the proposal is for much-less-expensive level-2 chargers, which provide about 25 miles additional range at a cost of about $1.30 per hour. That's sufficient additional comfort range for a wide audience of EV owners. More important, EV visitors are incentivized to explore the town's shops and restaurants just a short walk away over the picturesque Nubanusit River bridge while they recharge; obviously win-win.
The PEC is asking Peterborough town voters to approve their petition warrant on the 2020 town ballot. This will not increase Peterborough's tax rate a cent. It merely allocates monies from the existing Greater Downtown Tax Incremental Finance (GDTIF) district fund balance not to exceed $35,000. GDTIF funds may only be used for the purpose of infrastructure improvement in the downtown area. The GDTIF balance after payments to service bonds and other projects is projected to be around $360,000.
Petition Warrant Article 14 asks for support for the installation, operation, and maintenance costs of two to four level-2 charging stations, based on estimates from several EV charging station providers. The proposal received majority approval from the GDTIF Advisory Committee, the Economic Development Authority, and the Select Board. The PEC is exploring these options, but the final choice of options will be up to the town Select Board and Administration.
Keene has had level-2 EV chargers in their Commercial Street Parking Lot for over two years. They are often used and the town is very happy with the results. Why shouldn't we put Our Town on the map, too?
Bob Kennedy is a resident of Peterborough and a member of the Peterborough Energy Committee (PEC). The purpose of the PEC is to build capacity to lower Peterborough's carbon footprint and prepare the town to be resilient in a future marked by climate change.